Challenge Fango Team Edition / Prototype Tubular Cyclocross Tire
Regular price
$ 124.99
Sale price
$ 69.99
Unit price
per
Sale
Sold out
Exclusive limited run of Team Edition Prototype tires is here - read on for details...
Fango is one of the classic "all-rounder "cyclocross treads from Challenge Tires known especially for mud performance, hugely popular over the past decade. An older, but beloved tread pattern. 
Meanwhile, Challenge had continued to work on their high-end Team Edition tire line, featuring a 320TPI Corespun Cotton casing, seamless latex inner tubes, and softer tread compounds to provide even more grip.  
But there never was a Fango made in the Team Edition casing - until now. Challenge has whipped up a limited run of exclusive "Team Edition Prototype" tires, and RideCX has secured a small quantity of them for our customers. Each is handmade by Challenge with the new Team Edition casing and features, mated to that classic Fango tread. Reflecting their limited production quantities, each tire is stamped "TEAM EDITION - Prototype" in black text on the light tan sidewalls. 
Everything else you already know about Challenge is here too: seamless latex inner tube with removable valve core for easy use with Challenge Extenders when used on deep tubular rims, handmade construction, and PPS anti-puncture. 
Team Edition tires are highly desired by professional athletes including Helen Wyman, Ellen Van Loy, and Stephen Hyde: 
"Over the past seasons I've been working with Challenge to get the perfect balance of soft and supple rubber with the new casing on the Team Edition tubulars. I'm confident we've done this and the additional grip is noticeable in the corners.  I know that gives me more confidence to push my bike to the limit."
 - Helen Wyman, Kona, 9X National & 2X European Cyclocross Champion

 "I found the new soft compound tires gave me more grip in the corner with no reduction in straight line speed."
 - Ellen Van Loy, Telenet Fidea, 4th Overall Elite Women's Cyclocross World Cup

"No matter how you prepare or how good you feel, if you aren't on the right equipment it makes it very difficult to stay with or even ahead of the game. Having the softer tire and more supple compound means traction and smooth rolling without compromise. Low pressure without folding over is key to be able to roll fast and stay with the best riders in the race. I get that confidence with the Team Edition tires."
 - Stephen Hyde, Cannondale p/b CyclocrossWorld.com, 2nd 2016 US Elite National Cyclocross Championships
TECH NOTE: this is a tubular bicycle tire with a captive (stitched-in) latex inner tube (also called a "sew-up".) It must be glued or taped onto a tubular rim for safe use. It will not work on a traditional clincher wheel/rim. Proper setup is essential for your safety - if you are not qualified to install tubular tires, please seek expert guidance first. 
Return Policy

Return any new and unused item for a full refund (less shipping charges) within 30 days of your purchase. See full return policy.
Expert Guidance

Call or text (909) 283-3391 for questions or help, anytime.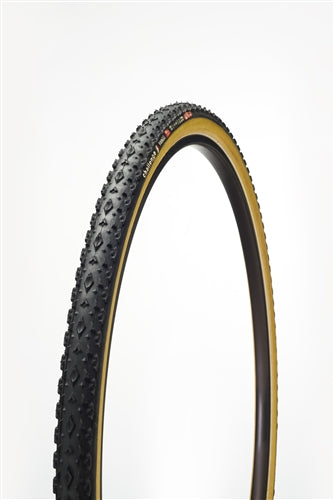 Awesome product
Shipping was super fast. Product was as described
Thanks for a great tubular at an awesome price
Thanks Chad! Glad these tires are working out for you.
Challenge Fango Team Edition / Prototype Tubular Cyclocross Tire