Arundel Shop Inflator for air compressors (Presta)
Regular price
$ 99.95
Sale price
$ 99.95
Unit price
per
Sale
Sold out
Arundel's Shop Inflator plugs into standard 1/4" I/M pneumatic lines to turn an air compressor into a powerful tool for working on bicycle tires and tubes. In addition to helping seat stubborn tubeless tires, an air compressor plus an Inflator tool can also handle all your day-to-day bicycle tire and tube inflation needs.
Easily seats and inflates tubeless bicycle tires
Arundel has created a beautiful, well-constructed tool that will provide you with many years of reliable service.
Presta valve only
2" pressure gauge
Includes Arundel's Woodsman Pump head with a replaceable grommet
Standard 1/4" I/M fitting
Hand-held, trigger operated
Arundel's Inflator can easily be operated with one hand, leaving the other free to hold the bike or wheel (or grab a snack.) The trigger operation allows you to easily shoot just the right amount of compressed air into the valve. 
Large, easy to read 2" PSI gauge 
The included gauge is 2" wide and features black and red text on a white background, so it's easy to read in the garage. The gauge reads up to 160 PSI / 11 BAR. For the best possible accuracy, the gauge reads the tire pressure (not the pressure in the air compressor line).
Fits standard air compressor lines
The Arundel Shop Inflator uses a standard 1/4" I/M connector, which means you can easily swap it on-the-fly with other air tools you may own to get the most out of your compressor. The 1/4" I/M connector standard is commonly used on pneumatic lines, fittings, and air-powered tools.
This is a presta-valve only tool. If you need to inflate Schrader valves, please see the Arundel Shop Inflator (Schrader) version.
Still shopping for an air compressor? Please see my shopping guide, the best air compressor for tubeless bicycle tires. 
Note: Pneumatic line (blue hose in the photo) is not included
Return Policy

Return any new and unused item for a full refund (less shipping charges) within 30 days of your purchase. See full return policy.
Expert Guidance

Call or text (909) 283-3391 for questions or help, anytime.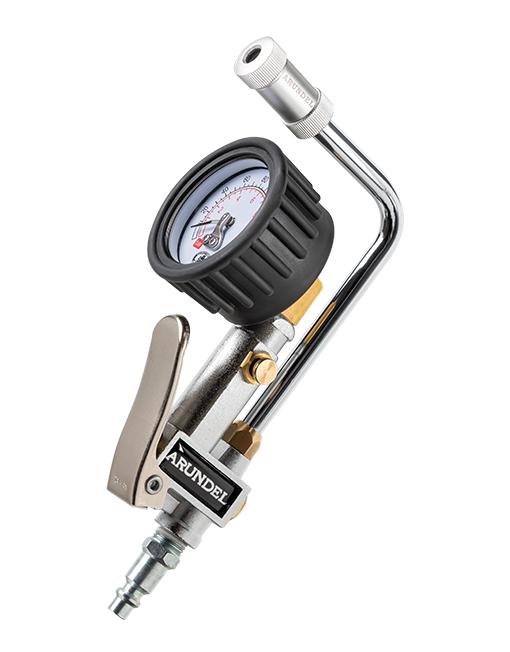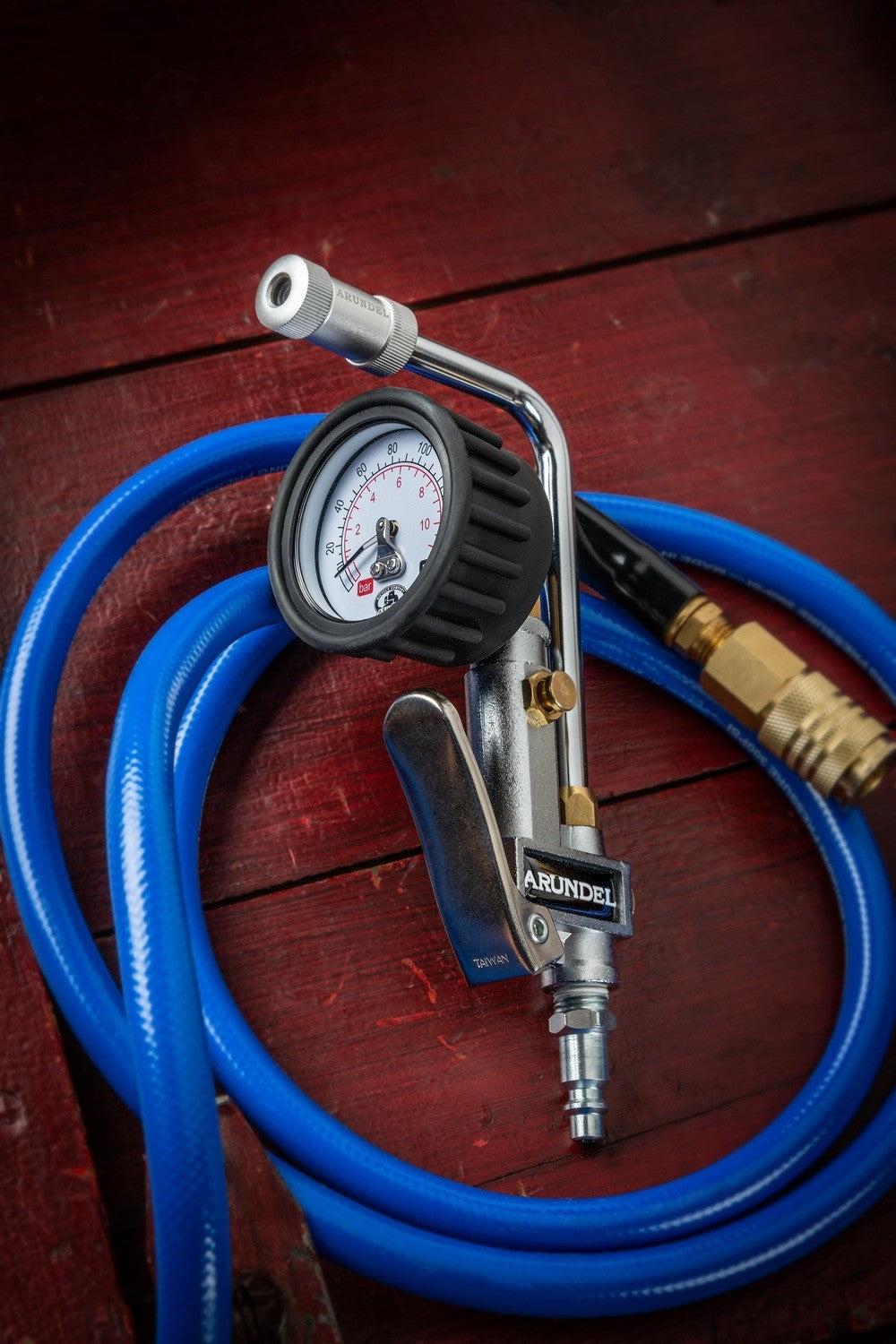 Arundel Shop Inflator - built to last
Just got the above, very impressed w/ the heavy-duty all metal and no flimsy plastic. But the most impression is from customer service. Had a question about the product, so sent email then caught by surprise, received reply almost immediately, which is rare nowadays. Many thanks to rideCX!!!
Arundel Shop Inflator for air compressors (Presta)
Arundel Shop Inflator for air compressors (Presta)
Excellent Quality
I bought a new ebike and needed an inflator for the Presta valve on my tires. This inflator is perfect - excellent quality and very easy to use.