Prestacycle Prestaflator Pro Inflator for Compressors
Regular price
$ 59.95
Sale price
$ 59.95
Unit price
per
Sale
Sold out
Having an air compressor in the garage has become a must for working with tubeless bicycle tires. But air compressor lines don't fit bicycle presta or schrader valves out of the box - enter the Prestaflator Pro Inflator from Prestacycle, which adapts your compressor with presta and schrader fittings and a trigger-action valve to work on bicycle tires. 
Handles both Presta and Schrader valves
This is the "Professional" version, a shop-grade tool that works equally well for the home mechanic. It's perfect for seating stubborn tubeless tires at setup time, or for handling day-to-day inflation, replacing your floor pump.
Trigger controls the air flow to your bicycle tube or tubeless valve
Built-in trigger valve so you can use small amounts of air to fine-tune pressure, or "full blast" to use maximum pressure for seating tubeless tires. 
Handles both presta and schrader valves
Built-in pressure gauge handles up to 174 PSI
changeable I/M compressor quick-release attachment so you can easily swap between air tools on your compressor. The common 1/4" I/M quick coupler (that works with most standard air compressor lines) comes in the box.
Built to last for a long life
Built to last from 60601-T6 aluminum, chrome and stainless steel. Uses an angled push-pull head, the fastest and easiest presta valve connection. Urethane grommet is 5x more durable and provides a better seal. Greatly simplifies setup of tubeless tires - Cyclocross Magazine called it: "your next must-have gadget." 
How to use the Prestaflator Professional with an air compressor
The Prestaflator Professional features a standard 1/4" I/M fitting that plugs into common air compressor lines.
It's now possible to get a full home workshop compressor setup for working on bicycles for about $200, including the Prestaflator, pneumatic lines, and the compressor itself, making it within range of the home mechanic. In addition to their usefulness on tubeless bicycle tires, owning an air compressor has many other household uses, and adding one to your home workshop is more realistic and useful than ever.
Why you want one
Modern bicycles increasingly use tubeless tires. Sometimes, when installing tubeless tires, the beads can be seated using a floor pump. It varies quite a bit based on the tire, rim tape, and rim. More stubborn tires or tricky rims need more consistent, higher-pressure air to seat the beads. Bike shops and pro mechanics use compressors for this purpose, and so should you.
Which air compressor to buy
Order the inflator tool from RideCX.com and then hit Lowe's or Home Depot for the air compressor itself. Here's what you're shopping for:
The air compressor:
For bicycle use, small capacity 2 or 3 gallon models work fine. Shops might want a larger capacity model, so the motor runs to refill the air tank less often, and you can work on many wheels in a row.

I use this one https://www.lowes.com/pd/Kobalt-3-Gallon-Single-Stage-Portable-Electric-Hot-Dog-Air-Compressor/1000258241 from Lowe's.


Pneumatic lines:
A starter kit like this one includes both the air line and all the 1/4" I/M fittings required to get things hooked up. 1/4" I/M is a common size used on smaller compressors for home use. It's nice to get the hose that coils up automatically to keep things organized in your shop. You can buy the lines, fittings, and accessories separately, but this kit is super economical and has everything in one box.


If your kit didn't come with them, you might need a set of I/M 1/4" male and female couplers. These allow you to "quick release" your air tools from the air line, so you can change tools for different jobs. 


Prestaflator inflation tool for bikes (from the top of this page) - this is the "magic" part that converts the air pressure fitting into a presta or schrader valve that works on your bikes.


Look for equipment with the 1/4" I/M type connector to ensure everything is compatible. This connector is used on many compressors, air lines, pneumatic power tools, and most importantly, it's also the connector used on the Prestaflator inflator tools. 
Getting ready
You should wear eye and ear protection before using power tools. With those in place:
Turn off the compressor
Install a male 1/4" I/M fitting into one end of the new air hose (if it didn't come with one already installed). Install some plumber's tape on the threaded interface to help it stay airtight before you screw them together. Plumber's tape comes in the "starter" kit mentioned above if that's what you purchased, if not, purchase separately.
Plug the end of the air hose with the new 1/4" male fitting into the compressor. Compressors typically have a "pull/push" fitting, you pull back a retaining ring, shove the connector in, and then release the ring. 
Install a female 1/4" I/M fitting into the other end of the air hose, again using some plumber's tape to get a tight seal.
Your new Prestaflator Inflator has a 1/4" I/M fitting already on it; plug it in to the newly-installed female end of the air hose.
Plug the compressor into the wall outlet and turn it on, the motor will run as the tank begins to fill. 
Check for leaks on your newly-installed connectors, and adjust your fittings if needed.
When the motor stops, the compressor is full and ready for use. 
Point your inflator in a safe direction and squeeze the trigger to test it.  
How to use the compressor for tubeless bicycle tires
Consult the owner's manual for your specific compressor, but generally compressors have some features in common. You'll usually find a regulator to control the PSI output - turn it to an appropriate PSI for bikes - you might start with 40 PSI to begin and go higher if needed later. 
Open the presta valve and hit it with the compressor. With a little luck, your tubeless tire beads will jump right into place with a satisfying "pop", but if not, check this article for some additional steps to take. 
In addition to seating tubeless tires at installation time, you can of course use a compressor for your daily "top-up" inflation needs. Some of the inflator tools have a built-in pressure gauge you can use. If your inflator doesn't have the gauge, use the regulator on your compressor instead.
Other uses for air compressors
Once you've got your compressor setup, you can easily remove the Prestaflator Inflator using the quick-release I/M fitting to install other tools. Compressors have a variety of uses beyond bicycles, including: 
quick cleanup of dust with a blower tip (a blower tip is included with the "starter kit" mentioned above)
airbrushing artwork
inflating car tires
powering pneumatic tools like an nail or staple gun for construction or remodeling projects
inflating pool toys
Compressors are quite noisy and can bleed air slowly over time, which means the motor will turn on to refill the tank periodically. So you'll want to turn it off when not in use. Be a good neighbor. 
Return Policy

Return any new and unused item for a full refund (less shipping charges) within 30 days of your purchase. See full return policy.
Expert Guidance

Call or text (909) 283-3391 for questions or help, anytime.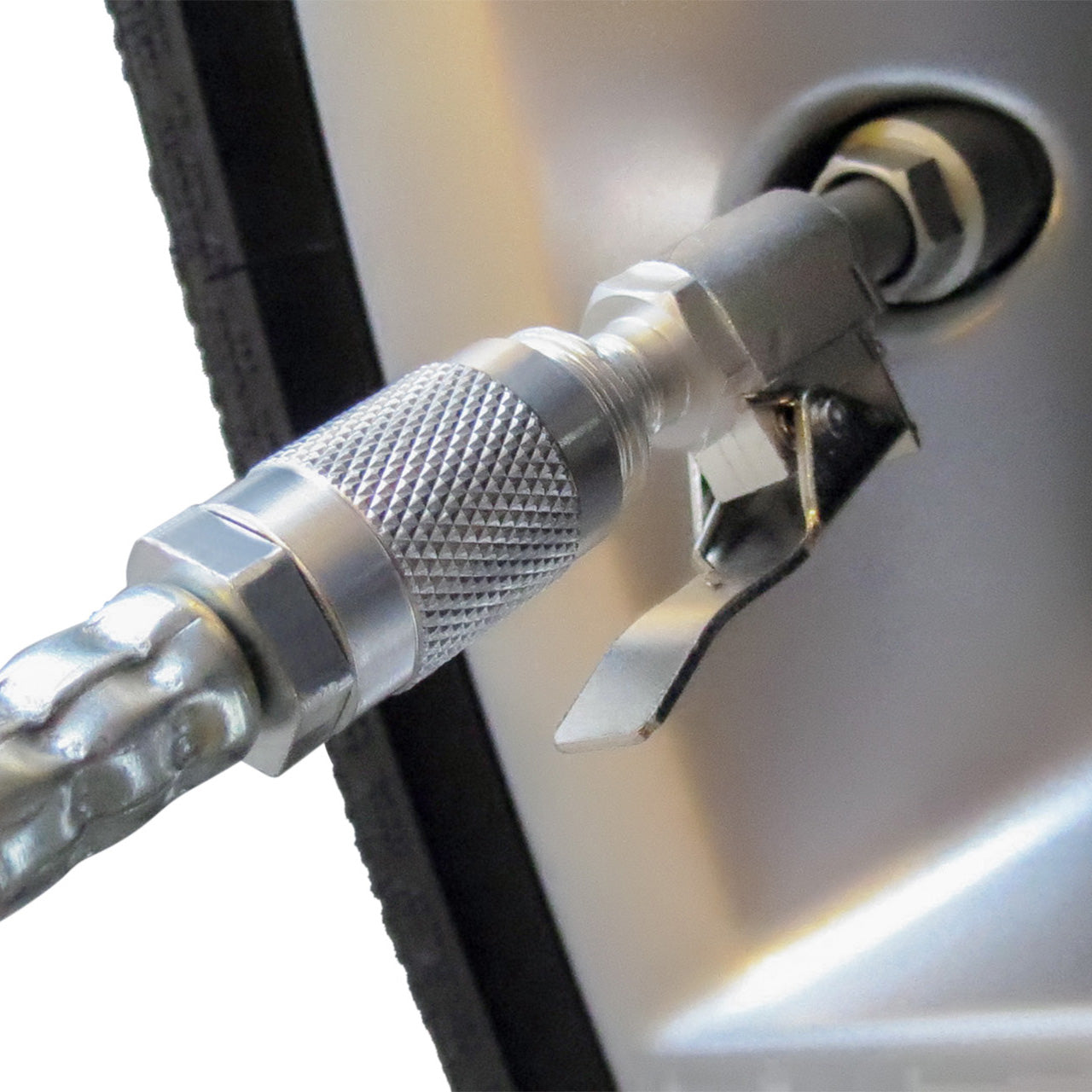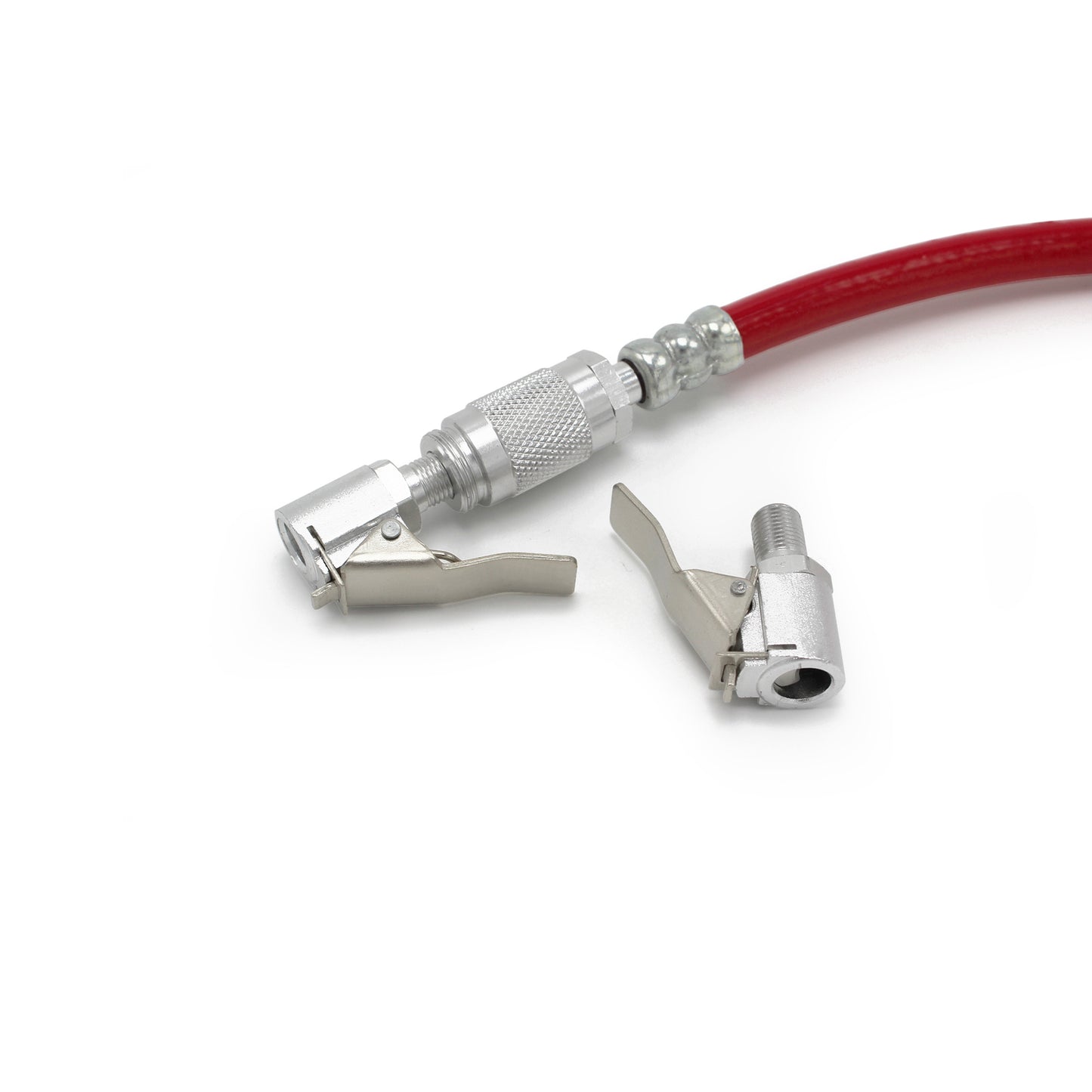 Replace the air line coupler with a quality one and the inflator works fine.
I read the reviews for this before I bought it and it seemed like the biggest complaint was the air line coupler was crappy and users replaced it with a quality replacement to rectify the problem. I had the same issue. I replaced the part and the unit works great.
Leaves something to be desired
I bought this because what I really wanted was not available, anywhere. The major flaw with this is that nothing in the attachments will fit over a presta valve with the core removed. This renders the inflator head useless for seating the second bead on a tubeless tire. My local bike mechanic suggested a work-around, but it would have been nice not to need that. Another problem is that there is no documentation in the packaging, and the videos from the manufacturer aren't helpful either. That all said, the whole thing isn't rocket science and fairly easy to figure out. If one just wants to inflate tires on which the beads have been already set, it's fine.
Easy way to inflate your tires
Love this tool. It is well constructed and professional grade. The only thing that would have made things easier is a guide for the multiple adapters included with it.
as expected
Very pleased that the Prestaflator worked as designed. I was able to inflate my gravel tires to get the bead to lock, which i could not do with my floor pump. It was important to me to be able to change my own tires. Very happy. I also purchased the Kobalt compressor that i am pleased with.
Outstanding Purchase Experience
My compliments and gratitude to Justin Christopher, who is an asset to the very reputable company, RideCX. Thanks to Justin's diligent oversight, the quality product was delivered in record time. Thank you, Justin!