Challenge Grifo Pro Series Tubular cyclocross tire
Regular price
$ 99.99
Sale price
$ 89.99
Unit price
per
Sale
Sold out
If you are new to tubular tires/wheels, the Grifo Pro Series Tubular from Challenge is an ideal choice for cyclocross racing. If offers the classic tubular "look" with black tread and distinctive brown sidewalls, and it's handmade by Challenge without breaking the bank. 
The top-selling "all rounder" tubular cyclocross tire
Pro riders get equipment free and can afford to have multiple tubular wheel/tire combos for grass, mud, dry, asphalt, etc. to suit the day's conditions - a luxury those of us who pay for tires cannot afford! A Grifo tubular feature an all-around tread pattern that works well on many surfaces - providing a single setup you can use with confidence in almost any race conditions. If you can only have one tubular tire/wheel setup, make it a general-use tread pattern like the Grifo. 
Puncture Prevention casing
SuperPoly 300TPI casing and PPS puncture prevention allow you to run very low PSI for increased traction and better handling in the worst conditions. 
700x33c
300 TPI
claimed 415 grams
PPS puncture prevention
SuperPoly casing 
TECH NOTE: this is a tubular bicycle tire with a captive (stitched-in) latex inner tube (also called a "sew-up".) It must be glued or taped onto a tubular rim for safe use. It will not work on a traditional clincher wheel/rim. Proper setup is essential for your safety - if you are not qualified to install tubular tires, please seek expert guidance first.
Return Policy

Return any new and unused item for a full refund (less shipping charges) within 30 days of your purchase. See full return policy.
Expert Guidance

Call or text (909) 283-3391 for questions or help, anytime.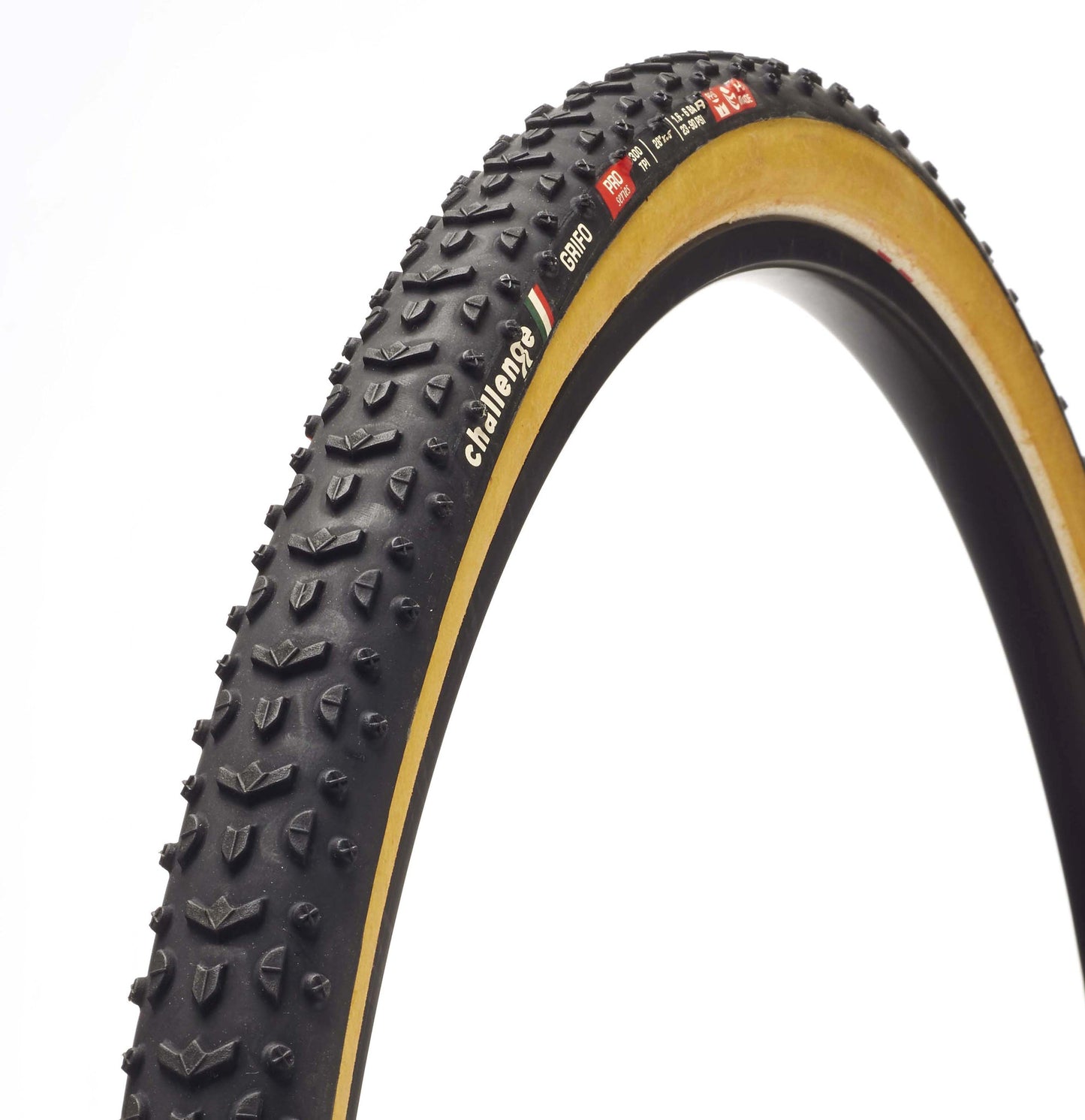 Question
I put the tire on the wheel to stretch prior to glueing and put air to it. The tire does not hold pressure for more than an hour. I know the other Challenge tubulars I have slowly lose pressure (over multiple days). I want to call and ask a couple questions before I have my local mechanic glue the tire on but just have not had time. I'm guessing air pressure will hold better after glueing. I will try calling soon. Your customer service and follow up have been great.
Hi Robert, thanks for the order, and for taking the time to write a review. Appreciate your support!
Here are some things to think about and to check:
1. These use a latex inner tube which is definitely more porous than butyl rubber, it will lose air significantly faster compared with a clincher tire with a rubber tube or even compared to 'tubeless tubulars' like Clement / Donnelly which have a butyl rubber coating. It is normal and expected to lose air quickly over time, you need to set the pressure during warmup, prior to racing. My own tires for example are noticeably softer when I get home at the end of the day following a race.
2. That being said, one hour is awfully fast. The PSI should not go down that quickly. This tire uses a removable valve so that valve extenders can be used if needed; is it possible it could be leaking from the removable core? I would definitely doublecheck the valve is snugged down, not just the nut on top but the actual core.
3. Encourage you to use a gauge to check exactly how much PSI is being lost over time.
Gluing/taping the tire won't change its ability to hold air, so if you have concerns, please don't tape/glue yet.
As always please write or call anytime with questions and good luck in the coming season!