Challenge Grifo Team Edition "S" Cyclocross Tubular Tire
Regular price
$ 124.99
Sale price
$ 104.99
Unit price
per
Sale
Sold out
The Grifo Team Edition "S" tubular tire offers the classic do-it-all Grifo tread pattern mated to Challenge's handmade T.E. "Team Edition" casing. Grifo is one of the most popular all-conditions tread shapes of all time, and a great choice if you only have one set of wheels and tires to use for every race over the entire season. If you can only have one tubular tire/wheel setup, make it a general-use tread pattern like the Grifo. 
Challenge Grifo Team Edition S3, as ridden by pros
Tricked out with flashy white sidewalls, "S" label (soft, supple, sealed) and "Team Edition" text.
700x33
320 TPI for a supple feel with incredible grip 
PPS puncture protection
claimed 405 grams
A great choice for all-around cyclocross conditions
Pro riders get equipment free and can afford to have multiple tubular wheel/tire combos for grass, mud, dry, asphalt, etc. to suit the day's conditions - a luxury those of us who pay for tires cannot afford! A Grifo tubular feature an all-around tread pattern that works well on many surfaces - providing a single setup you can use with confidence in almost any race conditions. 
TECH NOTE: this is a tubular bicycle tire with a captive (stitched-in) latex inner tube (also called a "sew-up".) It must be glued or taped onto a tubular rim for safe use. It will not work on a traditional clincher wheel/rim. Proper setup is essential for your safety - if you are not qualified to install tubular tires, please seek expert guidance first. 
Return Policy

Return any new and unused item for a full refund (less shipping charges) within 30 days of your purchase. See full return policy.
Expert Guidance

Call or text (909) 283-3391 for questions or help, anytime.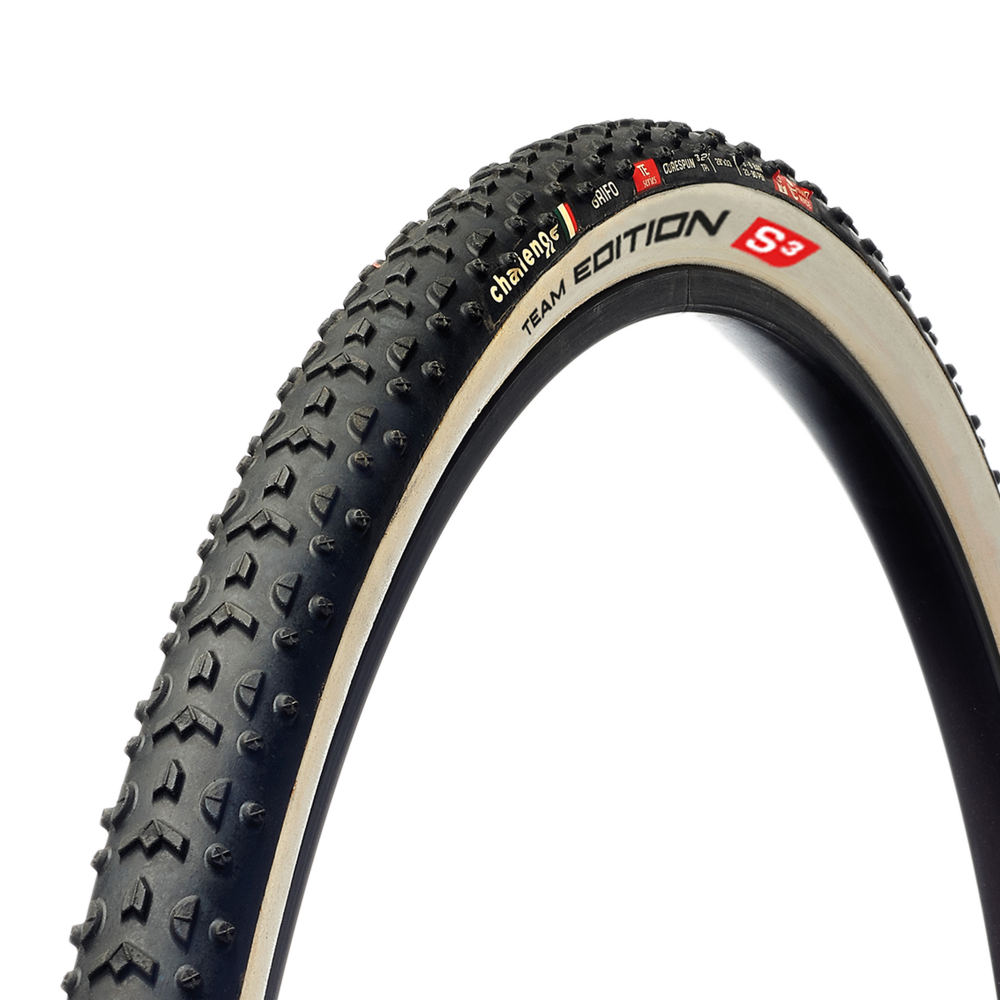 Challenge TE
Worth the xtra $ - I have been a challenge fan for years. However, I would go through at least two sets a season - primarily do to sidewall breakdown. The TE - with coated sidewalls will last 1.5 to 2.0 seasons - worth every incremental dollar.
Thanks for the comments Kevin and I really appreciate your business.